Scale knowledge across your workforce with AI & AR
For enterprise companies that work with field teams, Telepresenz enables remote, real-time access to top-level expertise when you need it most.
For mission-critical situations or any scenario that depends on a fast, accurate resolution, there is no better way to connect.
Frontier Wear provides Telepresenz sales, delivery, and support across Australia and New Zealand.
COLLABORATION FOR EVERYONE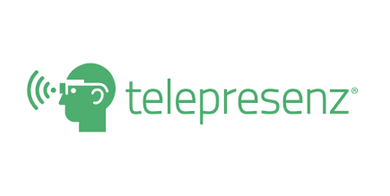 Telepresenz® is an augmented reality solution that connects remote users in the field to the experts in your team, enabling quicker diagnosis and resolution of issues in real-time. The Telepresenz® base station is accessed via a browser and the software is delivered on smart glasses, allowing for hands-free activity or the use of another mobile device such as a smartphone or tablet.
MOBILE MEETINGS AND REMOTE ASSISTANCE
Telepresenz® provides connected workers with 1-1 and 1-many mobile video meetings, powered by advanced remote assist and collaboration tools including live-stream telestration, file sharing and AR 3D file overlay and visualisation.
Unlike many other collaboration platforms, Telepresenz® is designed to function in low-bandwidth environments, ensuring your front-line workers have reliable communication with the rest of the team.
Its digital workflow component provides a hands-free checklist, field data capture, work validation and safety monitoring.
This helps orchestrate concurrent work, increase time-on-tools and drastically decrease safety incidents.
These workflows help remote experts quickly connect to front-line workers and assess the situation.
Integrate your ERP, EAM, PDM, and IIoT systems to provide hands-free augmented reality real-world data overlays on today's smart glasses.
Enable connected workers with hands-free access to mission-critical data and equipment-specific manuals.
INCREASE REMOTE AND MOBILE TEAM PRODUCTIVITY BY 30%+
SlackTM and Microsoft TeamsTM are great in the office… but not in the field. Telepresenz expands leading collaboration platform capabilities with easy-to-use features designed specifically for the mobile workforce.
Working in the field means having to account for broad range of changing work conditions and problems. It is a hands-on job requiring full situational awareness and, occasionally, a little extra help from an outside SME.
Available natively on all mobile devices, our platform offers quick access to helpful information and remote experts with hands-free 1-to-1 and 1-to-many video conferencing. Then, turn your work environment into a virtual white board with AR annotation tools. Backed by Telepresenz, you'll wrap up jobs faster and stay safer.
Whether you are on a hi-tech assembly line or doing a refinery turnaround, you need the ability to follow technical instructions and coordinate complex operations with other personnel. Your work in sensitive, or even dangerous, workspaces restricts the safe use of electronic devices.
Telepresenz is a partner of RealWearTM ruggedised and intrinsically safe wearable Head Mounted Devices. This gives you hands-free access to video conferencing, mission-critical data, and digital workflows. Get step-by-step instructions while you work and stay connected with the control room.